สูตรเล่นสล็อต gclub ฟาโร-เล่นสล็อตออนไลน์ลุ้นรางวัลใหญ่.ป๊อกเด้ง
สูตรเล่นสล็อต gclub ฟาโร-เล่นสล็อตออนไลน์ลุ้นรางวัลใหญ่,
We did the little people. Now it's time to find the best and the biggest.
Previously: Pro Offense/Pro Defense,?1879-Before Bo, 5-Stars, 3-Stars, Extracurriculars, Position-Switchers, Highlights, Numbers Offense/Numbers Defense, In-State,?Names, Small Guys
Rules: Just like the all-small roster, a player gets equal points for being large and for being excellent. Here however I will count weight on equal footing with height, since most of these guys weren't trying to shed it. This one is going to favor more modern players; Germany Schulz was considered a huge center for his time at 6'2/212 and until the 1980s even the linemen who were over 300 pretended not to be. So there's an all-relative team hanging out in here too.
-----------------------------------------
Quarterback: John Navarre, 6'6"/228 (2003)
What's an arc?
My top quartile rule plus the Age of the Howitzer puts us in the weird position of disqualifying 6'5" Tom Brady, Todd Collins, and Jim Harbaugh, sticking us with a pool of Speight, Mallett, Cone, Kapsner, Sessa, Ziegler, and LURRRRRRCH! The stuff about the campus not being very much behind Tom Brady is so much stuff because the same people were on campus for much or all of Navarre and there's no question who was pined for and who maligned.
Much of that is because underclassman Navarre had to play the bulk of the time we'd carved out for Henson. Navarre broke in as a redshirt freshman when Henson got hurt in early 2000, terrorized a pair of MAC teams, then was awful against UCLA. With Henson off to baseball in 2001, Navarre leaned heavily on Marquise Walker and the offense was, well, Lurch-y. By 2002 he had his feet under him and in 2003, with Braylon and Avant, Michigan got an excellent and high-volume passing season out of the big guy, setting all the passing records and more importantly leading Michigan to a win over defending national champion Ohio State and a trip to the Rose Bowl.
Relatively: Bob Timberlake (6'4/211) was a modern-sized quarterback right at the beginning of the pocket QB era. Forest Evashevski (6'1/198) was huge for the early 1940s.
Honorable Mention: Wilton Speight (6'6"/240)
-----------------------------------------
Running Back: Anthony Thomas (6'2/221)
Note: I have requested that WH change the music. If you mute the above and play the other it lines up well, especially at the bridge when that tom comes in while he's setting up a bunch of Hawkeyes and when Marquise Walker jumps on him.
The roster data have all kinds of lies to add to Bo and his successors' preference for big backs. Picking from a pile of guys who were listed at 6'2/220 and were actually more like 6'0 is virtually naming Michigan's best non-squib back. Some guys we knew were fullback-sized (Askew, Bunch) became fullbacks in the latter part of their careers. So let's not overthink this and go with the full-time running back whose NFL measurement agreed with his roster height, and who was literally referred to in his day in terms of a multi-ton vehicle, IE A-Train.
The size was definitely an issue…for opponents. A-Train had that patented three-yard fall that made his carries +EV even when the line didn't block well, and the added length made him one of Michigan's best pass-blocking running backs in memory.
Relatively: Jim Detwiler (6'3/209) is a mostly forgotten star from the mid-'60s who towered over the other RBs. Crazylegs Hirsch (6'2/190) was such a tall running back he went on to be the first great NFL wide receiver.
HM: Ty Isaac (6'3/228), Wyatt Shallman (6'3/239), Roosevelt Smith (6'3/232), B.J. Askew (6'3/210), Chris Perry (6'0"/228), Tyrone Wheatley (6'0/226), Jarrod Bunch (6'2/240)
[After THE JUMP: Poor Anthony Morelli]
-----------------------------------------
Fullback: Aaron Shea (6'5/251)
I know I keep using Shea in these things but if he's anything it's the prototype of what would be become Harbaugh's preferred style of fullback: as tall as an offensive lineman, as heavy as a defensive end, and as athletic as a running back.
Relatively: Fritz Seyferth (6'3/218) is the dude who looks like a tight end who popped open the edge for Touchdown Billy Taylor. He's also the guy who was in charge of Michigan's recruiting in the '80s and '90s, and the guy who reopened the Pretzel Bell. Fritz's size is evident today; whenever I wave at him at Crisler, people ask me which former basketball player that is.
HM: Henry Poggi (6'4"/270"), Sean Sanderson (6'3"/280"), Hammerin Panda (6'2/265)
-----------------------------------------
Tight Ends: Zach Gentry (6'7/244), Jake Butt (6'6/238)
Due to Michigan's weird decision not to feature their freakish human much last year, Zach Gentry leaves Michigan with little more than our "Throw it to the ent!" cheer. The NFL Combine came away with a similar take:
Zentry is an unpossibly large person who moves unpossibly fast. This is known. Before Gentry of course there was "ol' Skillet Hands" Ian Bunting, who was supposed to be a slightly larger version of the very large and VERY productive Jake Butt. His legacy, besides being the top offensive weapon on those early Harbaugh teams, is the #Buttzone, which is how we refer to the space above the playing field that you can throw to and only Jake Butt will come down with it.
Relatively: Legendary Ron Kramer (6'3/222) was bigger than most offensive tackles of his day and his attitude was even more frightening than his size. Bo had a Harbaughesque run of super-tall TEs in the early '70s, the largest of whom was 1974 starter Greg DenBoer (6'6/230), though similarly tall gents Paul Seymour (6'5/235) and Paul Seal (6'6/215) played more.
HM: A.J. Williams (6'6/283), Tyler Ecker (6'6/240), Ty Wheatley Jr. (6'6/260), Jay Riemersma (6'5/250), Rob Vander Leest (6'4/270)
-----------------------------------------
Wide Receivers: Devin Funchess (6'5/229), Paul Jokisch (6'8/239)
Despite all the big and tall receivers of the Lloyd era it's the guy Brady Hoke kept trying to turn into a tight end who stands out as the most ludicrously large receiver in recent Michigan memory. Funchess didn't have much interest in blocking and his final season was lost to the malaise of 2014 and injury, but his successful pro career is a testament to matchup nightmare he presented once he got to play his main position in college.
The only photo where he doesn't look entirely goofy. [UM Bentley]
For the other guy we're going back to the marvel of the Harbaugh era—I mean when Jim was quarterback. The Jokischs generated as many highlights as giggles for middle schoolers. Paul was sized approximately the same as Zach Gentry but way more goofy-looking. The way I remember him described is if they made a Revenge of the Nerds sequel where the Lambdas had to play football (did they?). Still, the mid-'80s Big Ten didn't know quite what to do with a split end who was half an inch taller and 50 pound heavier than their biggest cornerbacks. The latest Jokisch, Dan Jr., is an OL on the current team.
Relatively: Bennie Oosterbaan was something like 6'3/186, and from the photos of him coaching years later you gotta imagine that was real. Bo had a starter named Richard White (6'5/205) who was in the Funchess vein, though his mid-'70s teams never passed.
HM: David Terrell (6'4/200), Richard White (6'5/205), Tyrece Butler (6'5/200), Tai Streets (6'4/185)
-----------------------------------------
Offensive Tackles: Jake Long (6'7/338), Greg Skrepenak (6'8/322)
I'm sure you're safe. [UM Bentley Library]
This is a rough position for this exercise because the position is so closely tied to size, and because Michigan was a very early convert to this idea. Taylor Lewan was listed at 6'8 on the Michigan roster but came out just a hair smaller than Jake Long in the combine, and was 20 pounds lighter. Before Skrep there was Jumbo, Muransky and Bubba Paris, all about that 6'7/310 range that seems perfect for the blindside. By pure height I think Jon Runyan senior was a legit 6'8, but he was also a tight end convert still trying to hang weight on his frame when he ran out of eligibility.
The difference is that Long and Skrep were thicker, which I guess hurts more.
Relatively: Michigan tried a few 6'6/260 types in the 1950s and '60s but nobody hit until Bo unearthed Mike Kenn (6'6.5/250). In the two-way days, when an OT had to play the 5-tech as well, a guy like Francis Wistert (6'3.5/205) was a giant, and the second point-a-minute LT James Forrest (6'2.5/188) was remarked as particularly tall for a particularly small team.
HM: Jon Runyan (6'8/299), Trezelle Jenkins (6'8/298), Jon Jansen (6'7/299), Jake Long (6'7/315), Jumbo Elliott (6'7/306), Tom Dohring (6'7/290), Ed Muranksy (6'7/"275"), Perry Dorrestein (6'7/321)
-----------------------------------------
Offensive Guards: Ben Braden (6'6/335), and Michael Onwenu (6'3/***)
The other ghostbusters are still upset with Harbaugh about this.
They say Mike Onwenu is 350 on the roster, and the program will cop to 360 if pressed. What Onwenu really weighs is one of those questions that baffles physics. They call it the 4.62 body problem. It's mostly a problem for undersized DTs, or, you know, large-for-a-human-sized ones.
Braden came in as a tackle prospect and wound up being the go-to example of a lineman who's really too stiff for the edge or plowing, but who can get by and be a plus dude regardless.
Relatively: Guards were the bigger dudes on the team back in the day, but that was mostly weight. There was a guy on the 1896 team named John W.F. Bennett who got listed at 6'5/190. That may be real, or they could be including his hat.
The guy in front of him is 5'11 Fred Henninger for reference. More believable is 1900 starting guard Sam Kelley, who was 6'2/225. Star 1940s guard Merv Pregulman (6'3/207) was considered large in his day. Doug Skene (6'6"/315) was Ben Braden before it was cool.
HM: Leo Henige (6'4/339), Matt Lentz (6'6/305), Chris Ziemann (6'7/288), Alex Mitchell (6'5/324)
-----------------------------------------
Center: Cesar Ruiz (6'4/319)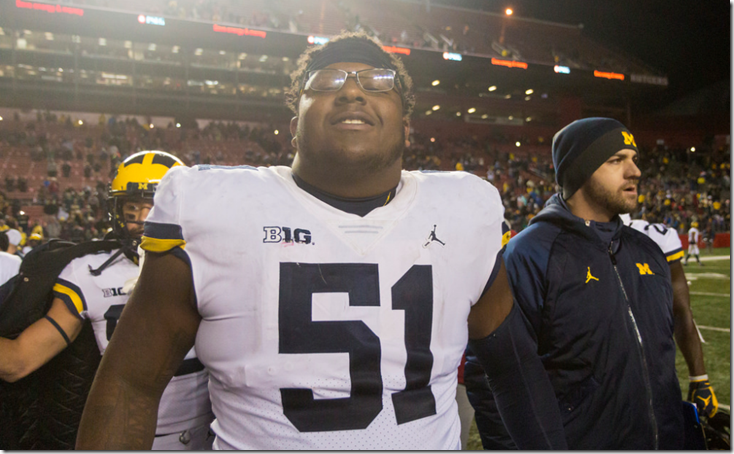 The current players will stop when Harbaugh stops recruiting the largest men to ever play here. [Patrick Barron]
Cesar Ruiz is the heaviest center in Michigan's roster history by a good 14 pounds, and still isn't old enough to buy a beer. I also could have gone with 6'6/303 Graham Glasgow or 6'5/305 Mason Cole here but Ruiz feels right. You may already know him from such plays as Raquan Williams gets an escort to the end zone.
Relatively: There's no contest. Germany Shulz (6'2/215) is the kind of pick for greatest center in the history of the game that forces the person you're arguing with to draw an arbitrary "since…" line. Amos Alonzo Stagg got the Big Ten to rule you only get to play three years so he wouldn't have to face Shultz, who invented the spiral snap (as well as the modern linebacker by standing up from his nose position and still guarding his gap). Shulz was also the biggest player on Michigan's roster by some margin, but given Yost liked small guys that wasn't a major accomplishment. Walt Downing (6'4/254) was Bo's first very large interior lineman.
HM: Graham Glasgow (6'6/303), David Baas (6'5/307), Patrick Kugler (6'5/303), George Lilja (6'4.5/250)
-----------------------------------------
Nose Tackle: Gabe Watson (6'4/339)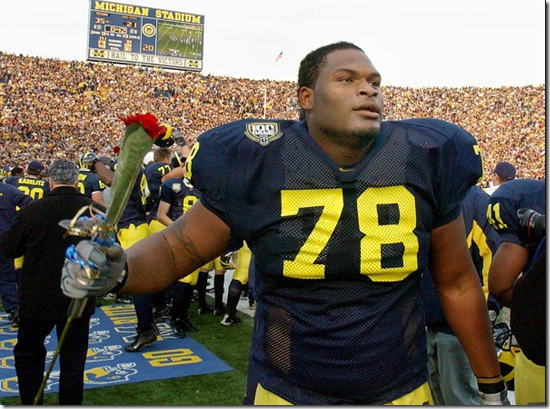 Before Bryan Mone and hype about William Campbell, Michigan got this space-eating tackle out of Southfield too late to save my brother's shoulder, but before the rest of his OL could take out Watson's knees permanently (the only way to stop him in high school). Watson didn't put up flashy numbers and got maligned for it, but that was unfair. He was all-Big Ten, and did his job ably, sucking up double-teams in Michigan's 3-4 system so Woodley et al. could roam free—it wasn't Watson's fault that Massey and Biggs couldn't do much with the one-on-one matchups that provided. Freshman Alan Branch did though, and I can't wait to reunite them.
Relatively: Again I need to point out that until the '60s and '70s a "tackle" on defense meant Rashan Gary not Bryan Mone (that was a nose guard or middle guard). And Bo preferred his middle guys little. Anyway there's one guy and I want to show you how I did this whole thing so you can see how much he stands out. I lined up all the modern tackles and historical guards we have heights and weights for in the Bentley database and sorted by height. If you click for big you'll something:

That odd duck from the early 20th century living next to Will Carr and Rob Renes and nowhere near anybody else from before 1970 is 1914-'16 lineman Fred Rehor (6'0/268) who could play inside and out despite outweighing most competition by 50 pounds. A more recent relative hoss was Dick McWilliams (6'3/248) who started in 1950.
Also C.H. Smith (5'10/230) of the 1893 team was a good 40 pounds heavier than most guys he played with.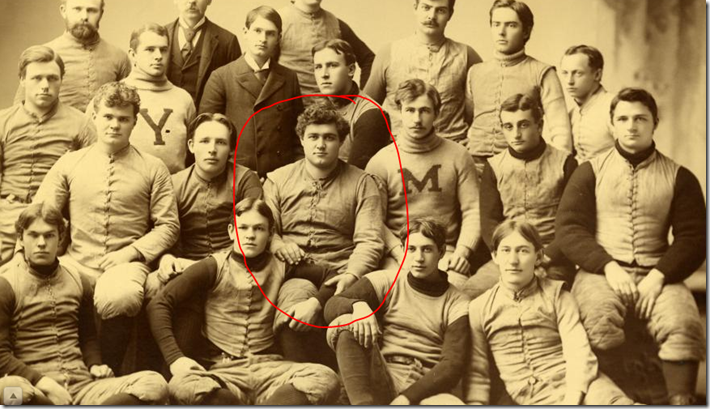 HM: Bryan Mone (6'4/335), Ondre Pipkins (6'3/340 as a true freshman!), QWash (6'4/302), Jason Kates (6'2/340)
-----------------------------------------
Defensive Tackle/3-Tech: Alan Branch (6'6/331)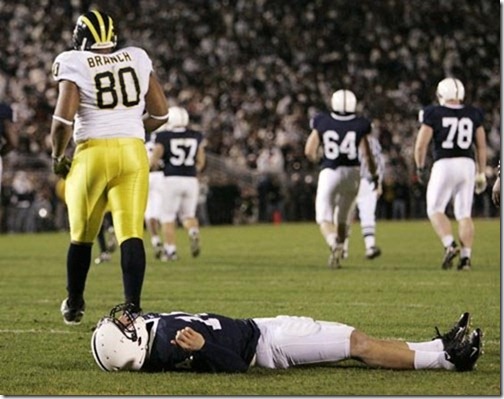 Well, you knew that was coming as much as Morelli didn't. Services rated Branch lower because they were sure this 6'6/300 18-year-old would be an offensive tackle. But Branch was a murderer not a protector. He murdered as a true freshman. He played "DE" in a 3-4 so he could murder some more as a sophomore. He and the whole defense were murderous his junior year, and after that the NFL required his services to deal with some troublesome quarterbacks. While MGoBlog does not condone murder, I don't know what else you can call the decision to let this man tackle people.
Relatively: Bo preferred his DTs smaller, but he certainly wasn't averse to playing Curtis Greer (6'4/255 at his draft measurements) when he could, though again we're stretching the tackle definition well into what would today be considered a DE. Warde Manuel (6'5/262) was pretty big for the late '80s.
HM: Patrick Massey (6'8/276 and yes it was as awkward as that sounds), Will Campbell (6'5/331), Marques Slocum (6'5/336), Willie Henry (6'3/311)
-----------------------------------------
Defensive Ends: Chris Wormley (6'6/302) and Taco Charlton (6'6/272)
Make Ryan Glasgow feel small, on three. [Bryan Fuller]
Another pair we get to put back on the field together. Wormley was athletic enough to play the Anchor spot though more than appropriately sized to move inside—and he might have done so to make room for Rashan Gary but, like, Hurst and Godin were on that team too, and Ryan Glasgow was at nose, and Mone was available, and…man that was a great DL. Also a big DL.
There are a lot more guys like Wormley from the annals of Michigan's various 4-3 under and 3-4 years, but I don't need to cheat when a 6'6/272 weakside end is available. I remember D.J. Durkin talking about the Buck position and how he wanted that to be a linebacker, and then game after game they kept having to put Taco back because what are you going to do, not play the freak?
Relatively: 1958-'60 tackle Don Deskins was 6'2/240. All-American1920s end Paul Goebel stood at 6'3/215, a good three or four inches taller than most of the guys trying to block or cover him.
HM: Ryan Van Bergen (6'6/288), Glen Steele (6'5/281), Rashan Gary (6'5/281), Dan Rumishek (6'4/277)
-----------------------------------------
Outside Linebacker/Hybrid: Victor Hobson (6'1/244 but seriously, if I said he was 6'3/280 nobody here would question it)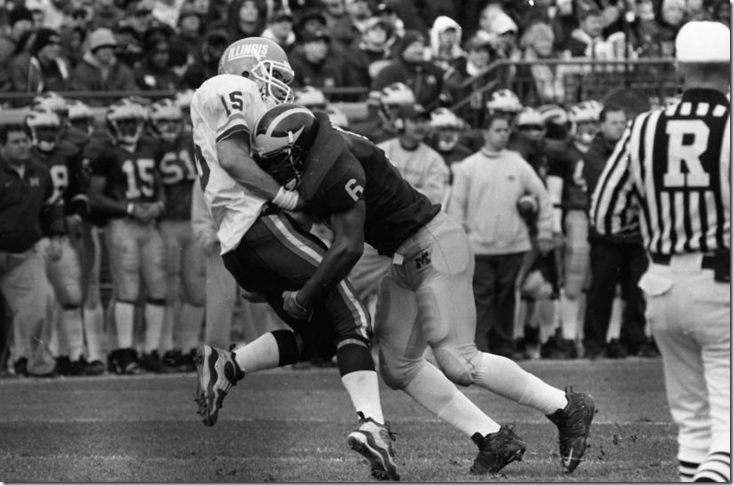 Ask anyone hit by Victor Hobson if he was smaller than Grady Brooks. [Richard Kalmbach/UM Bentley Library]
This one is personal, because I knew which OLB I wanted for this spot going in and he didn't quite measure up. Part of the problem is many of the "outside linebackers" in the database were pure defensive ends. For example Matt Dyson (6'5/265) was the "SAM" on the official depth chart but this is where he played:
Ditto Alex Marshall (6'4/260), Marty Davis (6'3/253) and Gannon Dudlar (6'4/267). Future NFL defensive tackle Trevor Pryce (6'6/247) started six games at OLB before transferring and probably should have been the guy above but I don't want to give it to a transfer. Also Craig Roh (6'5/278) played the standing up "Quick" in GERG's 3-3-5 (this would be Uche's role today) but I'm not making GERG decisions. There are also a few future DEs who saw time at OLB—Brennan Beyer and Frank Clark, and LaMarr Woodley before them. All of that feels like cheating.
Also cheating: All the B.S. weights they stuck on guys to make them seem larger than Victor Hobson, whom Michigan listed at 6'1/244 and the NFL put at just 6'0/249. I was next to him at graduation and I'm a solid 6'0 so I don't know what the NFL is talking about. If classmate Drew Henson was the most recognizable face on campus, Hobson was the most recognizable back. He wore these massive t-shirts and walked like he'd hidden the morning workout weights in there. When he got in the Angell Hall elevator with you, you wondered about the cables. And we still haven't factored in that glorious neck roll.
Then you saw him on the football field. His (our) super senior season he finally got to be the Dude of a front seven that was otherwise all guys (Rumishek, Bowman, Lazarus, Orr, Diggs, and Zach Kaufman) but excellent nonetheless.
Relatively: Converted from safety—in case you doubt his bona fides for our hybrid role—Bobby Abrams (6'3/240) moved down in 1987 to start at OLB for the next three years. He later won a Super Bowl…as Lawrence Taylor's backup. Mike Lemirande (6'4/229) was another tweener from a decade earlier.
HM:? Pierre Woods (6'5/247), Clint Copenhaver (6'4/243), Noah Furbush (6'5/245)
-----------------------------------------
Inside Linebackers: Sam Sword (6'2/249) and Mike McCray (6'4/248)
I've already established that we're counting neck rolls here but Sword looked like a monster even when he wasn't wearing his. So many 1997 defensive highlights are Sword impacting a guy who goes nowhere.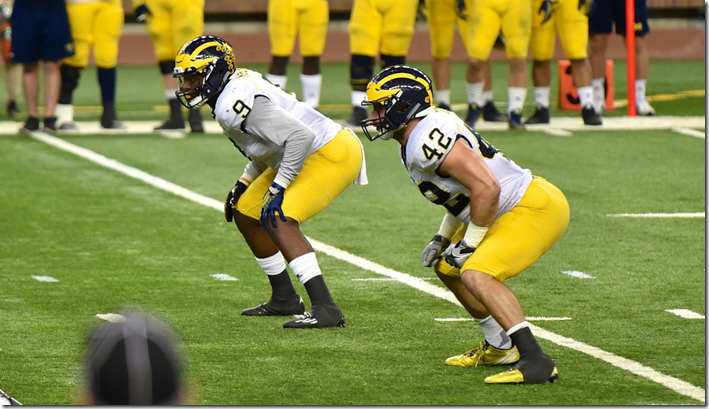 Point to the WLB. [Bryan Fuller]
And Don Brown has already established that he likes his linebackers small and quick, but big ol' Mike McCray wasn't going to let any of the wee ones take his position, even when Maryland ran scat backs off unbalanced looks to put him in space. It worked once, then didn't work again.
Relatively: I already mentioned Germany Shulz but the giant who literally invented middle linebacker isn't being left off this list. Early Bo era starting MLB Marty Huff (6'2/231) was larger than the nose guards he played behind, and even started two games at right tackle in 1969. And we can't leave out the ferocious Charles Bernard (6'2.75/215), a two-time All-American in the early '30s.
HM: Carl Diggs (6'1/253) was shaped like a cube.
-----------------------------------------
Safeties: Ernest Shazor (6'4/226) and Tommy Hendricks (6'2/225)
Safety is a constant problem for these exercises because Michigan went a long time without any good ones. For this one in particular it's tough because they're all similarly sized; Bo had a 6'2/190 type he preferred, and while that was "big" for the time and today, like quarterback it makes finding someone exceptionally large exceptionally difficult.
Shazor is a constant problem for these exercises because he would have made an awesome viper, and did not make an awesome safety, but by doing awesome viper things he built a Thorpe-worthy highlight reel of the things safeties a decade earlier were wont to do. Like taking people's heads off. Or taking people's heads off while causing a game-winning fumble.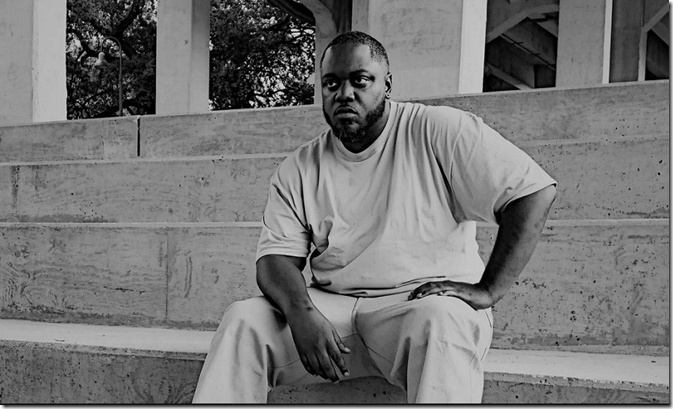 Hendricks today, via
For our one-high guy there are plenty to choose from out of the time before Lloyd Carr joined the staff and went to smaller deep guys in the '80s. But there are a pair of Carr's five-star 1990s free safeties who became NFL linebackers. The first, Tommy Hendricks, was the smaller but more productive of the two, putting a hard cap on any plays that might escape the Doomsday Defense's front seven (Michigan gave up just six plays of 20+ yards that year!). In 1999 he moved to strong safety to make way for his likeness, Cato June. Tommy continued to bulk up after his senior year and eventually became a pro middle linebacker.
Relatively: So the super old guys are excluded, not because safety wasn't a job—in fact it was the first defensive position to get its own name—but because it was usually given to a guy whose job was to return punts and maybe stop a long run or two. Since players, for the most part, were listed by their offensive positions, and the safety could be any of the backs, it's hard to tell until the '60s who was playing back there.
HM: Cato June (6'1/224), Shonte Peoples (6'1/227), Marcus Ray (6'0/210), Greg Koss (6'5/190), Mike Lemirande (6'4/205), Vada Murray (6'4/185), Cam Gordon (6'3/207)
-----------------------------------------
Cornerbacks: Jeremy Clark (6'4/206), Brad Cochran (6'3/219), and Deon Johnson (6'2/213)
?
So our issue here is that Bo had a lot of very large corners. He liked to play Cover 2 with the cornerbacks part of the run game, and that led to a ton of 6'2/200+ guys—too many in fact to for "large" cornerback superstars Marlin Jackson and Charles Woodson to qualify. That doesn't mean we're shut out from all the all-time greats, because Brad Cochran was the hugest as well as one of the greatest of the Bo-era cornerbacks.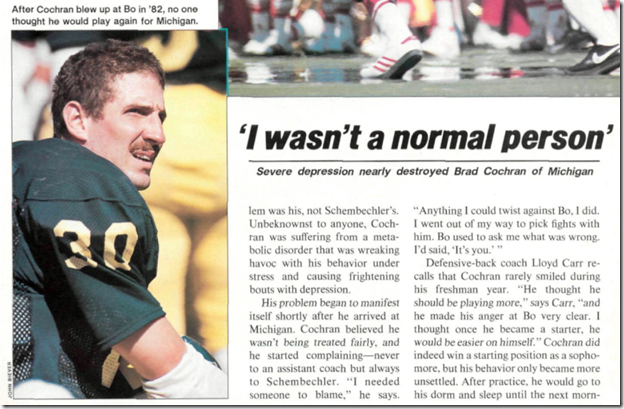 via the SI article
Cochran came in as a linebacker, actually, had a mental breakdown due to depression, and came back to start 38 games at cornerback in the mid-'80s. Another very large regular was Deon Johnson, who started opposite Ty Law in 1994.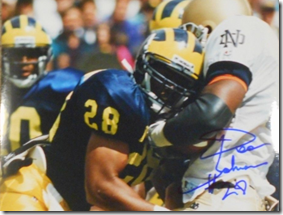 More recently, there's Jeremy "Just like Richard Sherman" Clark, an athletic Hoke grayshirt at first who became an offer when he blew up his senior year, wasted away at safety, then had a late-career renaissance as an odd 6'4 cornerback under Harbaugh, splitting time with the very good (and also very tall) Channing Stribling until his unfortunate injury one game past the point of a senior redshirt.
Relatively: There's no way this guy is real, right?
I mean, he's a real person whose name leads off a law firm that's still around, but the firm history doesn't mention "absolute unit" anywhere. But I'm guessing it's a typo and Michigan didn't have a Zentry-sized halfback two years before Yost. So let's go with one of Michigan's last two-way players, Bob Ptacek (6'1/205), the quarterback and MVP of the (not good) 1958 team, who stayed on the field as a cornerback and sometime linebacker. There's also mid-1930s starter Don Paquette (6'1.5/190) and early '40s star Tom Kuzma (6'1/196). Finally Willie Heston (5'10/180), the great back from Yost's point-a-minute teams, was considered a large guy for the position at the turn of the century.
HM: Rich Volk (6'3/195), Dieter Heren (6'3/200), David Arnold (6'3/196), Lance Dottin (6'3/196)
-----------------------------------------
Kicker: Brendan Gibbons (6'1/240) and Zoltan Mesko (6'3/231)
[Eric Upchurch]
The Big Ten had plenty of large kickers in the 2010s. Michigan's entry shouldn't have been on the team but he was so he counts. No other kicker is within 15 pounds of him. Michigan's had plenty of large dudes with big legs over their history, but the Galactic Overlord had the girth to go with it.
Relatively: Bob Timberlake (6'4/210) and ask him about it sometime.
HM: Kenny Allen (6'3/215), Andy Mignery and yes he was a punter at one point (6'3/250)
-----------------------------------------
Seth's All Big and Tall Team:
OFFENSE
?
DEFENSE
Pos
Player
Ht/Wt
Active
Pos
Player
Ht/Wt
Active
QB
John Navarre
6'6/228
1999-'03
NT
Gabe Watson
6'4/339
2002-'05
RB
Anthony Thomas
6'2/221
1997-'00
DT
Alan Branch
6'6/331
2004-'06
FB
Aaron Shea
6'5/251
1994-'99
SDE
Chris Wormley
6'6/302
2012-'16
TE
Zach Gentry
6'7/244
2015-'18
WDE
Taco Charlton
6'6/272
2013-'16
TE
Jake Butt
6'6/238
2013-'16
MLB
Sam Sword
6'2/249
1994-'98
WR
Devin Funchess
6'5/229
2012-'14
WLB
Mike McCray
6'4/248
2013-'17
WR
Paul Jokisch
6'8/239
1982-'86
SLB
Victor Hobson
6'1/244
1998-'02
LT
Jake Long
6'7/338
2003-'07
SS
Ernest Shazor
6'4/226
2001-'04
LG
Ben Braden
6'6/335
2012-'16
FS
Tommy Hendricks
6'2/221
1996-'99
C
Cesar Ruiz
6'4/319
2017-
CB
Brad Cochran
6'3/219
1981-'85
RG
Michael Onwenu
6'3/360
2016-
CB
Jeremy Clark
6'4/206
2013-'16
RT
Greg Skrepenak
6'8/322
1987-'91
CB
Deon Johnson
6'2/213
1990-'94
K
Brendan Gibbons
6'1/240
2009-13
P
Zoltan Mesko
6'3/231
2005-'09