สูตรเล่นสล็อต gclub ฟาโร-เล่นสล็อตออนไลน์ลุ้นรางวัลใหญ่.สมัคร sbobet
สูตรเล่นสล็อต gclub ฟาโร-เล่นสล็อตออนไลน์ลุ้นรางวัลใหญ่,
I've been wanting to write this forever but only got around to it because TOC reminded me I should do it. I'll update this if I forgot anything and as warranted by changes.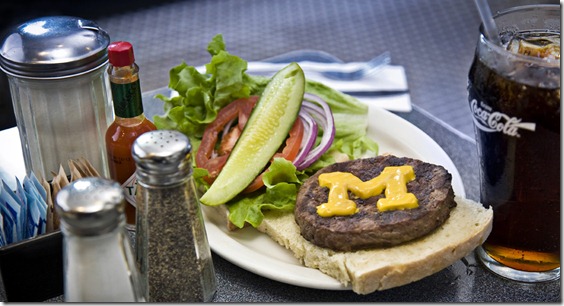 via Angelo's, but don't get this because it doesn't have hollandaise on it.
So, you're coming to Ann Arbor to watch football. Welcome! Sorry about the frat guys who talk crap to you. At least they aren't throwing beer cans! (They totally would, but those things are ten cents, and in this economy DO YOU KNOW WHAT I AM SAYING.)
I'm not much use when it comes to getting tickets or finding accommodations but I know where to eat and drink in this town. I had to go to Paris to confirm this, but it's true: Ann Arbor is a fantastic food town. You can get virtually anything here, and get it done well.
Unfortunately, some of the famous things are terribly overrated and it's really easy to walk into an overpriced restaurant run by Main Street Ventures. But that's what this is for, to prevent this from happening to you. There is also no doner kebab. I can't do anything about that, or I already would have.
Shorter Version Of This Post
If you need something to eat after you hit town and want quick takeout for tailgating, go to Frita Batidos or Satchel's. If you want to watch football go to Bar Louie. If you want to drink, go to Ashley's. Dinner is harder. Right now I'd say The Ravens Club is the most versatile.
Breakfast
I want to wait in line for some Hollandaise.
Angelo's is the quintessential Ann Arbor breakfast place, and it deserves its rep. They'll serve you raisin toast for a little bit extra and all the tables have a cinnamon sugar shaker and they've got deep fried French toast. I hear this is all very good.
I don't know because I didn't understand what the BFD was about Angelo's until about the third time I went there and I got eggs benedict. The hollandaise. This is what you should order. Accept no substitutes.
On a Sunday morning go early or late or prepare to wait. Your best bet is to avoid the church rushes; they don't take reservations.
I want a ridiculous pile of food no one could hope to finish.
The Broken Egg is Ann Arbor's premier purveyor of 2000 calorie breakfasts. They aren't great, but they're huge. It's not really my style—I'd rather just hit up one of the copious diners—but if you could eat a horse this is your jam.
I want brunch. Like brunch with crepes.
Café Zola is the best brunch-with-crepes sort of place in town. They also serve ludicrous waffles and… uh… half-pound burgers. Pricey for dinner. A tiny bit pricey for breakfast, but high quality.
I want eggs, toast, and coffee.
There are plenty of diners. The Cloverleaf is the downtown one I'm most familiar with. It is a diner. Benny's is also a diner, but it's famous because Michael Phelps ate there. If you're not from Michigan, a Coney Island is a diner that will serve you a hot dog with chili on it if you want them to.?
Lunch/Dinner
I would like to participate in the deli sandwich blood war.
When Andy Staples came to town he ran down the Great Sandwich War of Ann Arbor with exacting accuracy. Choose as you will.
I brought a jacket and would like to eat at the best restaurant in town.
Since Eve Aronoff closed her eponymous restaurant, this is almost certainly Logan. It will run you fancy dinner prices; it will be worth it. Reservations are a good idea. Get the fresh baked cookies for dessert.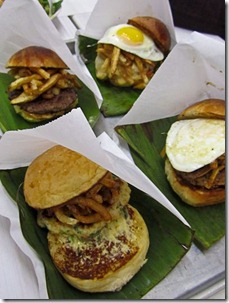 I just want a burger.
That Eve person mentioned above opened a new place when she shut down her old one: Frita Batidos. They serve fritas, not burgers. Fritas (right, via Kitchen Chick) are Cuban sandwiches on round buns that are basically burgers except they're made of glory and chorizo. And can come with a fried egg and tropical coleslaw and avocado spread and Munster on them. Or be fish or turkey or a really really good black bean thing. And you can get milkshakes (batidos) with them and fried plantains. Or you could just get the Cuban sandwich, or some fried smelt, or churros that descend from the heavens accompanied by a chorus of angels. Just go here.
They do takeout. Therefore, this is the best possible idea for spur-of-the-moment road game "tailgating." You know what I'm talking about: you roll into a town you know nothing about and get Subway and wish you were at a home game. Frita will cure you of that malaise. The most convenient way to get there from the highway is to take the Main Street exit off M-14.
If you refuse to do this there is a Five Guys. You are disappointingly average. Boo you!
I would like to eat a fancy dinner or some small plates in my sports-themed attire near hipsters.
You are destined for The Grange, which opened about a year ago. The Grange is the only reason there's a qualifier before Logan's status as the best place in town.
It's one of those places that will tell you the life history of the pig you are eating. You will actually enjoy this because you will be having a burger with bacon jam—bacon jam!—and a little blue cheese croquette that is glorious, or duck poutine, or, like, food for adults that's just as good.?
When we went we were the only people not in t-shirts. If you want someplace that tastes fancy you can go after a game, this is it.
I want a reasonably priced American place.
Red Hawk is the best bar/grill/American place in town, and it's conveniently located near Ashley's.
I'd like to see these quaint Northerners try barbecue.
I used to recommend Blue Tractor but the last couple of times I've gone it's been not so good. It's also just a restaurant. A place called Satchel's opened up recently, though, and it features big benches and styrofoam plates with slabs of stuff on them and all manner of sauces and it seems pretty credible. I've lived in Texas, so I have an inkling of what I speak. This is also a good idea for road game tailgating, especially if you're exiting off US 23 at Washtenaw—it's right on the way.
I want ramen.
Tomukun is excellent.
I want pizza.
If you want fontina and grapes on your pizza, Silvio's is the place for you. Pricey, good, interesting. If you want a slice like Manhattan used to make, New York Pizza Depot, commonly known as NYPD, is a tasty approximation. Cottage Inn is widely reputed to be the best conventional place in town, and it is good. In my experience the takeout/delivery is actually a better idea than the restaurant.
It's 5AM.
The Fleetwood is open 24 hours and will give you a solid meal. It's a diner with a hippie twist. You win the prize if you go there and there's no one with dreads hanging around, looking derelict.
Other late night options: Pizza House's restaurant is open until 4 AM. Big Ten Burrito BTB?is Ann Arbor's late-night face-stuffing burrito of choice.
I'm stuck on Main Street and want something that will please a group of disparate people, some of whom I'm beginning to hate because I'm quite hungry.
The Ravens Club is your best bet. Their menu varies wildly in price from 10 to 30 bucks, so you can choose what you're feeling up to, and it's all very good. They make excellent cocktails as well.
Other good options on Main are Prickly Pear, a Mexican restaurant with killer empanadas, and Middle Kingdom, a by-the-book Chinese place that's high quality but not mind-expanding.
I would like to cook my own meat, or I'm from South Korea.
this is doing it right at Seoul Garden
Ann Arbor has a frighteningly authentic Korean restaurant called Seoul Garden that's conveniently located next to I-94 and Briarwood mall. If you are not Korean, be careful: this is not a place that pulls its punches. Once they had huge menu-wide specials on sea squirts, so we got some. Sea squirts turn out to be close relatives of barnacles. Trying to eat one is like trying to eat a tiny basketball full of salt water and bones. Another time we mistakenly ordered some cod roe soup. Cod roe is like eating those little packets of desiccants you find in beef jerky.
HOWEVA, if you sidestep the many pitfalls on the menu and just order some bulgogi or bi bim bop it's going to be good. They'll bring out delightful little bowls of ban chan that are always great and then you'll cook up some beef or pork belly at your table and put it in some lettuce with some rice and be just delighted with everything. If you get the bi bim bop get it in a stone bowl and you'll get fantastic crispy rice at the bottom of your meal.
You would not believe how poor I am.
Hello, student. BTB above is a good bet. Jerusalem Garden is a genuinely good Mediterranean joint that will stuff huge amounts of falafel in your face for five bucks. Ann Arbor also has the usual flock of Jimmy John's you'll find in any college town.
I would like Ann Arbor to leave a bad taste in my mouth. (IE: not recommended.)
Virtually every place on Main is overpriced for what it is. (Rent is killer.) The above-mentioned places are exceptions. As a general rule pick something just off Main over something on it. Skip anything from Main Street Ventures.
The Earle hasn't updated what it does since the 1960s. Blimpy Burger calls itself "cheaper than food" but is actually quite expensive and gets along on reputation these days. If you really like grease—like… you don't mind doing shots of it—I guess it's cool.
People will kill me for this but I have been unimpressed with Zingerman's Roadhouse. In my experience the bread fights back when you try to eat it. I don't think a lot of vegetarians are going to be hitting this post up but Seva is the most depressing kind of vegetarian restaurant, the sort that pretends everything has meat in it—and not very well.
Drankin'
I want to watch football on sixty TVs.
This is a shameful thing but the best place in town to watch sports at a bar is Buffalo Wild Wings. The TV situations at the local sports bars (the Arena and Cubs AC, most prominently) are totally unacceptable for watching multiple games. I'm talking wavy, dim, 20-year-old projection TVs.
Bar Louie is another solid option; that's another chain but they have a much better beer selection and better food than BWW. Also, they have not made you want to put your fist through a TV with their ads. Actually, forget I said anything about BWW. Go to Bar Louie. If it's full, BWW is your second option. If that's full, the bar area at the Arena is workable. They're all within a couple blocks of each other.
I have a favorite Russian Imperial Stout.
you call that a bar? this is a bar.
Michigan isn't Oregon but it has a booming microbrew scene, of which Ann Arbor is a major participant. You will be able to find two to four varieties of Bell's on tap virtually everywhere, and many places will have New Holland or Founder's.
If you're just drinking, Ashley's is the place to go. With over 100 taps and a zillion bottles they will have something you like. Unfortunately, the menu no longer describes Labatt Blue as "bland perfumy sweetness," but it used to. That's the kind of place we're talking about. Heavy grad student population; fairly popular with undergrads. Food is substandard except for the Stilton fries, which rock.
Jolly Pumpkin opened a brewpub on Main a couple years ago. Their beer is good but there aren't a ton of options and they're often out of what they do have. The food is trying really hard to be gourmet but is not well executed. I was excited about them; one of these days they will Get It.
Grizzly Peak is more of a restaurant than a pub but they do brew their own beer and it's quality. Tends to be overrun, though. It's where students take their parents. Avoid if it's parents' weekend. And Bar Louie does have a surprisingly good beer selection for a chain.
I have a hard-won loathing for Arbor Brewing Company. Their Irish stout has no head. They make pine beer that tastes like soap to the point of undrinkability. Hit their Olde 22 Ale at the wrong point and it will taste like cigarettes. The rest of their beers have something just… off about them. Unless you need to hit on grad students who really enjoy organizing labor, stay away.
I am an undergrad, possibly one wearing an Affliction shirt.
Any of the bars on South University will be up your alley: Mitch's, Touchdown's, The Brown Jug, Good Time Charley's. [UPDATE: Apparently the former two no longer exist.] The latter two are less fratty; all are heavily undergrad. Charley's is a good place to go if there's a USMNT game you want to see. Your other main option is Scorekeeper's. They're all the same place. Rick's is as close as you'll get to Jersey Shore in AA.
If you want to rub up against ladies who are not interested in rubbing back, Necto is the primary nightclub in town. There are others farther from campus. I hear tell there was a mechanical bull but I think that place went under.
I'm tired and I want something as mellow as possible.
Old Town is usually your best bet for a relaxed drink on a crowded night. Service and beer selection is good, they can pour a drink, and… hey… free peanuts. Very townie bar.
I want a martini in a dark place that kind of makes me feel like a spy.
Babs' is your jam. The Ravens Club also does nice cocktails and I hear tell after a being a crushed-ice-in-your-martini kind of place the Alley Bar has undergone reform.